Uniform Details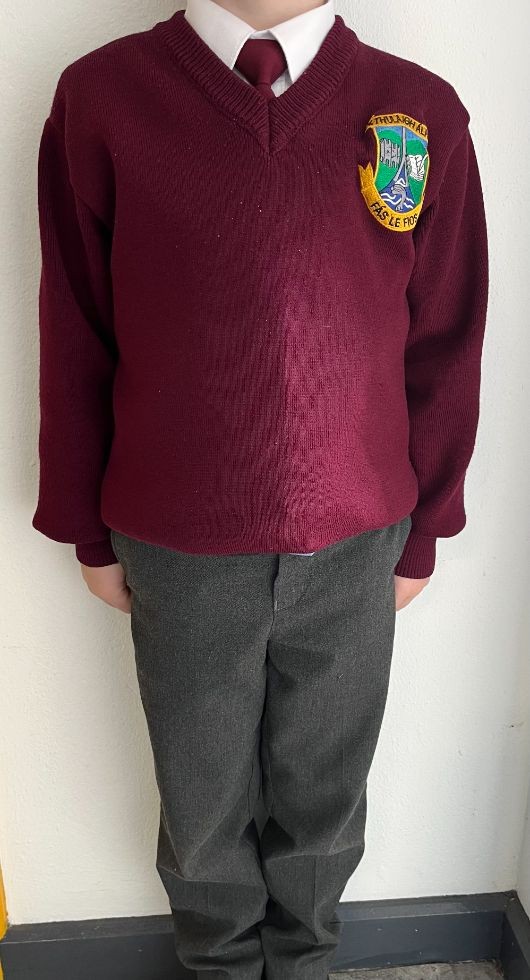 Uniforms should be worn at all times, except on P.E. days or as directed by the class teacher.
Girls - white (Preferable)/grey shirt, maroon tie, maroon jumper/cardigan, grey skirt/pinafore/trousers, black/grey shoes.·
Boys - white(Preferable)/grey shirt, maroon jumper, grey trousers, black/grey shoes.
P.E uniform - maroon tracksuit top with school crest, white(Preferable)/grey polo shirt, plain grey tracksuit bottoms, suitable footwear.
Summer Uniform - (optional) A lighter Summer Uniform with grey shorts (to the knee) with a plain light white(Preferable)/grey polo/T shirt can be worn when appropriate.
LEGGINGS ARE NOT PART OF THE SCHOOL UNIFORM!
Any exceptions to these rules must be sought in writing and may only be enacted with prior approval of the principal.
Junior/Senior Infants and AS pupils may wear school tracksuit throughout the week.
Only stud earrings are allowed for safety reasons.
Any child with long hair must tie it back. This is a concentration and safety matter. Having hair tied back can help with head lice which are often transferred in schools. It is important that when you get a note about head lice that you act all parents of children in that class act upon it. It is especially important that everyone checks and deals with the head lice situation together. Please ask the chemist for the recommended product.